Gideon Glick, Rebecca Naomi Jones, Sas Goldberg & Lindsay Mendez in "Significant Other" (photo: Joan Marcus)
Booth Theatre
February 14, 2017 thru April 23, 2017
Opened March 2, 2017
Written by Joshua Harmon
Directed by Tripp Cullman
After a critically acclaimed, off-Broadway run in the summer of 2015 at the Roundabout's Laura Pels Theatre, Joshua Harmon's heartbreaking comedy, Significant Other, transfers to a Broadway run at the Booth Theatre.   Starring the marvelous Gideon Glick in a breakout bid for stardom, Significant Other tells the story of Jordan Berman, a gay New Yorker in his late 20's played with anxiety-ridden delight by Glick, and his posse of single BFF's: Kiki, a dizzyingly daffy Sas Goldberg; Vanessa, the hilarious Rebecca Naomi Jones; and Laura, Jordan's soulmate played to perfection by the gifted Lindsay Mendez.  Their friendship bond is unbreakable but then, one by one, Kiki, Vanessa and Laura pair up with straight men and get married, leaving Jordan searching for his own man to love.  Left on his own to deal with the fear that comes with abandonment and self-doubt, Jordan wonders what's wrong with him as he grows more lost with each friend's wedding.
Along the way Jordan takes care of his sassy grandmother, deftly portrayed by Broadway legend Barbara Barrie (the original Company), who is having memory problems and tends to repeat stories when her grandson stops in for a visit.  But she understands Joshua is struggling to connect and dispenses grandmotherly wisdom with equal doses of love and common sense.  Barrie's scenes with Glick are the emotional center of Significant Other and it's a thrill seeing this indispensable actress fully inhabiting such a pivotal character.  Filling out the cast are Luke Smith who plays one of Jordan's gay co-workers, as well as handsome John Behlmann who plays Will, another man in Jordan's office who's probably straight but could possibly be gay that Jordan falls for and then makes a fool out of himself over.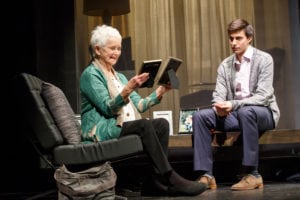 Smartly directed by Trip Cullman on a terrific set by Mark Wendland, Harmon's Significant Other breaks new ground with the depiction of gay men and their relationships, women and the way they interact with their gay male friends, as well as the challenges gay men face as they enter their 30's and 40's.  It's an unromantic romantic-comedy, of sorts, and Harmon's perceptive and bracing dialogue – so different than his lacerating Bad Jews – resonates deeply while hitting multiple nerves.  There's a scene near the end of Significant Other where Jordan and Laura finally "have it out" with each other in a fight that pulls no punches and takes no prisoners.  It's painful to watch because it's so authentic and it's an argument that, undoubtedly, many of us have had with our own friends.  But Significant Other isn't afraid to push those buttons and speak ugly truths.  It also lets us know that not knowing what lies ahead can be okay, too.