Christmas at Birdland
with Billy Stritch, Jim Caruso and Klea Blackhurst
Club 44 Records
Executive Producers: Landon Beene & Ernie Haase
Producer by: Billy Stritch & Wayne Haun
Tracks arranged by: Billy Stritch except "The Christmas Waltz – arranged by Aaron Weinstein
Orchestrations arranged by: Wayne Haun
They're baaaack!  Yes, following up on the debut of A Swinging Birdland Christmas! in 2014, that Triumvirate of Tinsel – Billy Stritch, Jim Caruso and Klea Blackhurst – have returned from the recording studio with another sensational holiday disc, Christmas at Birdland.  After wandering in the desert like the proverbial Wise Men of yore, Blackhurst, Caruso and Stritch (to go alphabetically) have returned with a tasty confection of a disc, loaded with joy, wit, and, of course, plenty of sass.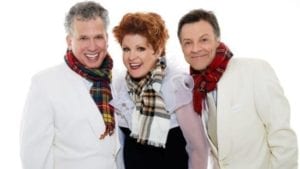 Stritch, Blackhurst & Caruso – photo: Bill Westmoreland
Filled with zesty arrangements and exuding a party atmosphere that defies you not to have fun, Christmas at Birdland finds Blackhurst, Caruso and Stritch in terrific voice singing both standards and contemporary fare.  Unexpected delights include: Donny Osmond making a surprise appearance in their opener, "Christmas Is Starting Now/It's the Holiday Season;" Caruso's "You Meet the Nicest People;" Blackhurst's "He's Stuck in the Chimney Again;" Caruso & Stritch's "Little Jack Frost Get Lost;" and Blackhurst's gorgeous rendition of "Silent Night" paired with "A Child is Born," featuring Dave Koz on saxophone.  Koz also joins Stritch for a beautiful interpretation of "The Christmas Song" which precedes the trio's delicious version of "Kay Thompson's Jingle Bells," because, let's face it, Christmas just isn't Christmas without Kay Thompson!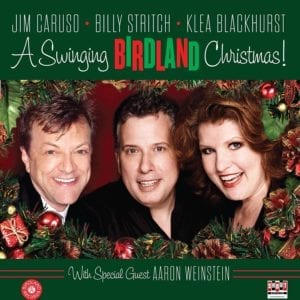 https://www.club44records.com/
Upcoming performances for Blackhurst, Caruso & Stritch include:
A Swinging Birdland Christmas at BIRDLAND – Dec 21-22-23 (at 7:00 pm)-24-25 at 5:30 pm
https://www.birdlandjazz.com/e/a-swinging-birdland-christmas-73451303827/