Seth Sikes in SETH SIKES SINGS JUDY GARLAND (Photo: Kevin Thomas Garcia)
54 Below
June 10, 2015
Conceived by Seth Sikes & Lisa Lambert
Directed by Eric Gilliland
Music Direction by Gary Adler
Orchestrations by Matt Aument
Piano: Gary Adler
Bass: MaryAnn McSweeney
Drums: Greg Joseph
Reeds: Kristy Porter
Guitar: Chris Biesterfeldt
Trumpet: Alex Bender
Trombone: Mike Fahn
In the pantheon of legendary female entertainers there is one woman who reigns supreme – the extraordinary Judy Garland.  Born the  youngest of three performing sisters in Minnesota in 1922, little Frances Gumm quickly morphed into MGM's brightest star, dazzling the world in a string of shattering performances before being taken from us at the gasp-inducingly young age of 47 in London in 1969.  There's a reason people worship Judy Garland; her talent was, quite simply, incomprehensible.  She was the ultimate tripe-threat: a natural actress incapable of a false performance; a brilliant dancer who could memorize choreography upon seeing it only once; and a singer of such emotional power and truth that Frank Sinatra reportedly said: "…someday we'll all be forgotten, except for Judy!"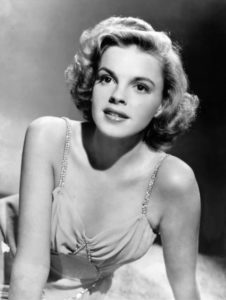 Is it any wonder then the invitation to see a 'chorus-boy-turned-director' perform a cabaret show celebrating Garland on what would have been her 93rd birthday made my blood run cold?  Of course not.  Years of experience watching hundreds of cabaret shows where singers – both women and men, gay and straight – couldn't resist the temptation to sing Judy's repertoire have taught me to temper my expectations with large helpings of patience and indulgence.  But there are exceptions to 'cabaret rules' and I'm always happy to admit when my preconceived notions were wrong.  In the case of Seth Sikes I'm delighted to report not only was I wrong, but that Sikes may well be one of the saviors of the Great American Songbook as we continue into the 21st century.
Sikes' biography reads almost like an MGM film script.  As boyish as he is enthusiastic, the fresh-scrubbed Sikes hails from Paris, Texas, where he grew up on a farm and was obsessed with Judy from a young age.  He tried his hand at acting but gave up a career as a performer (Fame on 42nd Street) for one as an assistant to directors such as David Cromer (Women or Nothing and Tribes) and Jack O'Brien (The Nance).  After years of thinking about it (and gentle prodding from a supportive grandmother back home), he tried out a full show of Garland's material last October and was such a hit 54 Below added subsequent dates in November and again in April.  I caught him June 10th in his latest effort, Seth Sikes Sings Judy Garland, which doubled as a birthday party for Garland, complete with a cake and red suede shoes standing in for ruby slippers!  He is, in a word, amazing.
Opening with a medley of "I Feel A Song Coming On" and "From This Moment On," it was the size and power of Sikes' voice that first struck me.  He's a lyric tenor, but it's the incredibly high placement of his voice that astonishes.  It's jaw-dropingly high!  And Sikes doesn't appear to be pushing or straining to sing the way he does, which is full-out.  Of course, after a lifetime of 'singing along with Judy,' it shouldn't be surprising Sikes' vocal production emulates the greats.  Like Merman, Garland and Streisand, Sikes is a belter – an unashamed, un-repentent belter.  Clearly, no teacher or coach ever told him "you can't do that," so he now sings unaware that what he's doing shouldn't be possible.  I kept waiting for him to tire or to shift into his head voice, but it never happened.  By the time he'd finished a thrilling "Trolley Song" my mouth hung opened.  By the time he reached the end of the first line in the "Born in a Trunk" sequence, I was a puddle on the floor.  In short, Sikes gets it.  His delivery is unfussy, but the emotion is there and his passion for Garland's songs is thrillingly palpable.  And if the keys he sings in aren't exactly those of Garland's, they're damn close.  Employing a terrific seven-piece band, crisply led by Gary Adler, Sikes benefits from smartly condensed arrangements by Matt Aument which closely mirror Garland's originals.  Everything is there: the punched accents, the bluesy harmonies, and – most crucially – the rising key changes that build to frenzied climaxes.
Mid-way through the show, Sikes invited singer Trevor McQueen, a fellow piano-bar devotee, to join him in a 'Cities Medley' which contained such showstoppers as "Chicago," "San Francisco" and "I Happen to Like New York."  McQueen has a big, belting tenor too, and he complemented Sikes nicely as they sparred and parried over the verses of the songs.  Their unconscious competitiveness got the better of them, however, and by the end of the medley they were both over-singing to a noticeable degree.  But that kind of zealotry can be chalked up to 'the excitement of the moment' and didn't detract from their overall chemistry.  In fact, watching these two young men belting out standards from the golden age of songwriting made me hope for the future of cabaret in general.
My favorite moment in Sikes' show came in a quietly moving reading of Kurt Weill & Maxwell Anderson's "It Never Was You" from Knickerbocker Holiday.  It was the first time in the show Sikes sang any dynamic approaching a mezzo-piano and it was rewarding to hear him shift gears out of his full-belt mode.  This leads me to two criticisms of Sikes' singing that need to be addressed.  First, as I just alluded, his performances need more dynamic diversity.  Nobody likes a belter more than I do, but these songs require more shading and finesse than Sikes is currently giving them.  Second, though he has terrific breath support on long-held notes at the end of songs, Sikes needs a good coach to help him improve his breath control on the legato elements of his singing and, in particular, shifting in and out of his head voice which he can and should employ more often.  To be clear, I'm not advocating that Sikes change his natural delivery.  On the contrary, to quote George Gershwin's iconic advice to Ethel Merman on the opening night of Girl Crazy in 1930, "…don't ever let anyone give you a singing lesson; it'll ruin you!"
Sikes concluded his Garland birthday soiree with a stirring "You Made Me Love You" into "Swanee" that had the audience on its feet before launching into two encores.  The first encore was the hilarious "Happy Harvest" from Summer Stock, which was a running gag throughout the show owing to Sikes' farming roots in Texas.  The musical lead-in to "Happy Harvest" made the audience think he was going to sing "Over the Rainbow" but, wisely, Sikes eschewed that classic as too sacrosanct to touch.  (And he was absolutely right to avoid it when so many singers don't!)  The final encore was Turner Layton & Henry Creamer's "After You've Gone" which sent Sikes sailing into the stratosphere both musically and emotionally.  It capped an evening that was a vivid reminder of Garland's greatness now embodied by a young acolyte who understands and appreciates her particular and compelling genius.  I can't wait to see what Sikes does next.  I'll certainly be there and so should you!