Signature Theatre – The Alice Griffin Jewel Box Theatre
August 12 – September 28
by A.R. Gurney
directed by Lila Neugebauer
The incredibly prolific A.R. Gurney, one of Signature's spotlighted playwrights this season, is best known for drawing room comedies like The Dining Room, The Cocktail Hour and Sylvia (to name just a few).  His oft-produced Love Letters (where two high-profile actors sit at small tables and read letters to each other) is getting a Broadway revival this season, too, opening September 18 at the Brooks Atkinson initially starring Brian Dennehy and Mia Farrow, and directed by Gregory Mosher.  However, back in 1977 Gurney was toying with dramatic form when he wrote The Wayside Motor Inn which had an outing in a workshop production courtesy of the Manhattan Theatre Club.  Inspired by scenes in 'grand opera' where multiple singers are performing simultaneously with overlapping lyrics and story lines (not to mention the British playwright Alan Ayckbourn), Gurney wrote a play about five different couples, each in a hotel room engrossed in their own problems and conversation.  The gimmick in The Wayside Motor Inn, however, was that all the actors would be on-stage at the same time playing out their stories simultaneously in the same hotel room, set outside of Boston in the late 1970's.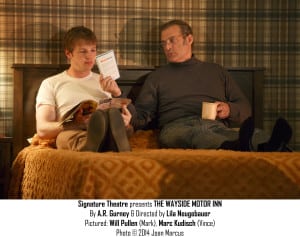 In the Signature Theatre's current revival of Wayside, credit must be given to a terrific cast and especially to director Lila Neugebauer, who makes the tricky blocking look effortless during the five continually interrupted playlets.  However, the problem with Gurney's 'notion-play' in 2014 is that there's little to no drama in anything being said onstage.  Every couple enacts their 'slice of life' problem competently but, despite the professional polish given the production, after 30 or 40 minutes you'll start checking your watch in boredom.  Frank and Jessie, an older married couple portrayed by Jon DeVries and Lizbeth Mackay, are on their way to visit their daughter's family while Jessie struggles with the bags and Frank worries about his heart condition.  Vince and his son Mark, the increasingly versatile Marc Kudisch and Will Pullen, have an appointment at Harvard where Vince is insisting Mark go despite the fact all Mark wants to do is fix cars for a living.  Phil and Sally, David McElwee and Ismenia Mendes, are young students just looking for a place to have sex and talk about their budding relationship.  Kelly AuCoin and Rebecca Henderson portray Andy and Ruth, who probably still love each other but are fighting about their impending divorce.  And finally there's lonely businessman Ray, Quincy Dunn-Baker, who banters with the sassy maid, a delicious Jenn Lyon, who delivers his room service and a lot of unsolicited advice.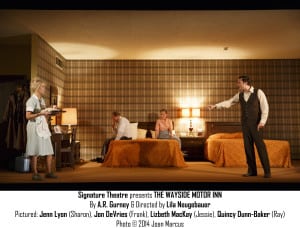 The standouts here are Kudish and Pullen as the at-odds father and son, as well as Lyon's hilarious maid who provides a welcome spot of comic relief amidst all the staggered dialogue and interrupted conversations.  Depending on your tolerance for this kind of dramatization, Gurney's start-and-stop storytelling may or may not be your cup of tea despite its solid casting and execution.