Colin Donnell, Laura Osnes & Nathan Gunn with Steven Reineke and The New York Pops (Photo: Richard Termine)
Carnegie Hall – Isaac Stern Auditorium
October 14, 2016
Steven Reineke, Music Director and Conductor
The New York Pops opened its 34th Season last month with The Musical World of Lerner and Loewe, a treasure trove of an evening that continued The Pop's winning streak of themed concerts that dazzle and entertain in equal measure.  Led by their charming and hard-working musical director, Steven Reineke, The Pops essayed standards from Lerner & Loewe's hit shows, including: Brigadoon (1947), Paint Your Wagon (1951), My Fair Lady (1956), the film of Gigi (1958) and Camelot (1960), and were joined by renowned opera star Nathan Gunn, broadway babies Laura Osnes and Colin Donnell, and the superb Essential Voices USA chorale led by the indispensable Judith Clurman.
With his burnished baritone, Gunn sang persuasive and impassioned versions of "Camelot," They Call the Wind Maria," and "I've Grown Accustomed To Her Face".  In addition, he brought the house down with "Gigi" at the end of act one (and was that the Andre Previn orchestral arrangement from the MGM film?), as well as several lush duets with Osnes such as "The Heather on the Hill" and "Almost Like Being in Love."  For her part, Osnes was in radiant voice and lent her effortless, gleaming soprano to "How Can I Wait?" and a trio of songs from My Fair Lady: "Wouldn't It Be Loverly?," "I Could Have Danced All Night" and "Show Me."  Throughout the evening Osnes was exquisite perfection.
Seen to such strong effect in shows as disparate as Anything Goes, Violet, Merrily We Roll Along, Lady, Be Good!, and Love's Labour's Lost, Donnell wasn't in his element initially in the first act.  Whether it was nerves or singing after a voice like Gunn's, Donnell's lovely, lyric tenor struggled with "If Ever I Would Leave You," a song written for a dramatic baritone (though Reineke adjusted the key for Donnell) and one Gunn normally would have performed in a concert such as this.  To his credit, Donnell regrouped for the second act and fared beautifully with classics like "Come to Me, Bend to Me," "I'll Go Home with Bonnie Jean" and "On the Street Where You Live."
True, some of the Gunn-Osnes duet pairings necessitated some strange keys and key changes but only the musical purists in the house would have registered those moments.  Additionally, though it's understandable why Reineke avoided Lerner & Loewes early collaborations (Life of the Party (1942), What's Up? (1943) and The Day Before Spring (1945)), it would have been nice to hear a few things from their final – and many think most cerebral – collaboration, the film version of The Little Prince (1974) which starred such luminaries as Richard Kiley, Bob Fosse, Gene Wilder, and Donna McKechnie, among others, and boasts a charming score.  Still, the Lerner & Loewe riches The Pops did present were wonderful and an important reminder of the rich musical theatre heritage this pair of composers have given to us all.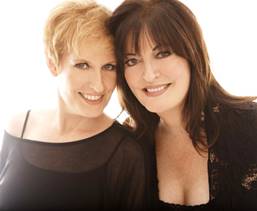 Don't miss The Pop's annual holiday celebration, Make the Season Bright, on December 16 & 17 at Carnegie Hall where Reineke and The Pop's will present an evening of seasonal sibling cheer with special guest stars: sisters Liz Callaway and Ann Hampton Callaway, and twin brothers Will and Anthony Nuziata.