Glenn Close in "Sunset Boulevard" (photo: Nick Wall)
Palace Theatre
February 2, 2017 thru June 25, 2017
Opened February 9, 2017
Book & Lyrics by Don Black & Christopher Hampton
Music by Andrew Lloyd Webber
Directed by Lonny Price
Choreographed by Stephen Mear
Orchestrations, Vocal and Incidental Music Arrangements by David Cullen & Andrew Lloyd Webber
The English National Opera's semi-staged production of Sunset Boulevard from the spring of 2016 has crossed the Atlantic and set-up shop in a fully-staged mounting with a 40-piece orchestra at the Palace Theatre for a limited Broadway run.  As it did in London last year, this revival of  Sunset stars Glenn Close as faded, silent-film star Norma Desmond.  Yes, that's correct, Close, who headlined the original New York company of the show in 1994 and won a Tony for playing Norma at the age of 47, will be starring in this revival at the age of 69 though she won't be eligible to win a Tony for playing Norma a second time.  Close will turn 70 on March 19.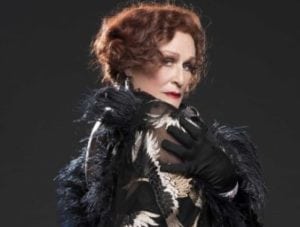 But wait, you might say.  Wasn't Close's singing pretty sketchy as Norma 23 years ago?  Well, yes it was now that you mention it.  So how is it today when she's on the cusp of turning 70?  Charitable theatergoers wanting to be kind to Close might say it's even more sketchy, but that she acts the hell out of it.  But serious critics must speak the truth in saying Close's voice is in tatters and that her singing is now a cross between braying and bellowing.  And she's not helped by sound designer Mick Potter when her body microphone is routinely cranked up to ridiculous levels to create the illusion she's achieving a crescendo via her own vocal power and not an electronic enhancement.  To be fair, Close looks fine (wearing her original costumes by Anthony Powell) and has many effective moments in the first act.  But then her performance spins out of control in the second act as she becomes unleashed in her craziness and loses all sense of proportion and nuance as her Norma goes off the rails.  It's painful to watch but with tourist audiences leaping to their feat to applaud a Hollywood star, how's Close supposed to know she's embarrassing.
As for the rest of the revival, the extravagant on-stage, 40-piece orchestra (the only reason to sit through the show) plays Lloyd Webber's mediocre score beautifully, even if they're wildly over-amplified – like everything in this production.  The overblown sets which won John Napier a Tony in the original mounting have been replaced by a series of iron staircases courtesy of James Noone.  Ironically, there seem to be even more stairs for Close to climb on this skeletal incarnation than there were on Napier's lavish, sweeping staircase.
Like Close, the other principals have transferred from the London revival with her – one assumes at her insistence since she no doubt had casting approval of her co-stars.  Fred Johanson has an intense, booming voice but lacks subtlety as Norma's right-hand man, Max von Mayerling.  The lovely Siobhan Dillon is charming but, in the most underwritten role of the show, has little to do as Betty Schaeffer.  And a very handsome Michael Xavier cuts a dashing figure as Joe Gillis and helps propel the story forward when Close isn't onstage stirring the pot as Norma.  It's a shame all the music for Joe and Betty is so dull and dispensable, leaving only Norma's two big numbers ("With One Look" and "As If We Never Said Goodbye") as the sole highlights of a seemingly endless score.  It's also a shame Xavier's physique isn't exploited more than it is.  At the top of act two, in a really clever bit of staging by director Lonny Price, Xavier climbs out of the empty orchestra pit as if climbing out of Norma's swimming pool.  He's wearing a pair of tight, box-cut swim trunks that make it clear why Norma could lose her mind over him.  But instead of leaving Joe in those trunks for a bit, lying on a pool-side chaise lounge, Price has him slip on a robe before turning upstage to slip off his trunks under the robe.  But that's just another missed opportunity in this Sunset Boulevard.  One of so many.