Theater 511 at Ars Nova
January 8th thru January 24th
Opened January 12th
Produced by Susan Dietz & Elaine Krauss
Written & Performed by Sam Harris with Todd Schroeder
Light & Sound Design by Matt Berman
Scenic Design by Reid Thompson
Costume Design by Hunter Kaczorowski
Musical Directed by Todd Schroeder
Directed by Billy Porter
If solo shows are self-indulgent fare, then, by their very nature, autobiographical solo shows must qualify as really self-indulgent.  Certainly, over the years there have been some terrific examples of the autobiographical show such as Lena Horne's The Lady and Her Music (1981), but – as a general rule – these vehicles tend to be minefields fraught with peril.
With that said, how much you'll enjoy Sam Harris' newest entry into the solo genre, HAM – A Musical Memoir, will probably depend entirely on your previous knowledge of Harris and your connection to him as a singer and performer.  Full disclosure here: I'm a fan.  A big fan, actually, having followed him as a contestant on the original Starsearch in 1984 when he electrified the country with his phenomenal voice (a big, black diva trapped inside a tiny, white boy from Oklahoma) and outré fashion choices (an over-sized tailcoat and high-top sneakers), when he took Broadway by storm in Grease and The Life, appeared on television in The Class,  and as a cabaret and concert artist.  (To this day, An Intimate Evening with Sam Harris at the now-shuttered Arci's Place in August of 2001 remains one of the greatest, live shows I've even seen.)  More recently in 2008, Harris, who's always been an activist, adopted a little boy, Cooper, and married his partner of 19 years, Danny Jacobsen.   Today he's proudly in the vanguard of openly gay celebrities who are raising families of their own – both a role model and an example of perseverance in our ever-changing world.
You get all of that and more in HAM, a deliciously fun, slightly sentimental, condensation of Harris' life told in fast-paced song and dance.  Briskly directed with a steady hand by Billy Porter (yes, the Tony-winning Billy Porter), and accompanied by Todd Schroeder, Harris reenacts the highs and lows of his childhood including his first brush with the stage as a child-actor in South Pacific, discovering the world of gospel music on the other side of the tracks, breaking away from home, honing his act with the help of a manager, and – finally – getting his big break on Starsearch, a break that would open doors and change his life.  What's surprising about HAM is the amount of seriously 'dark' subject matter Harris puts on display, talking freely about dealing with depression, alcoholism and a suicide attempt when he was still young and struggling with his sexuality.
Throughout the show, though his stellar voice is showing a tiny bit of wear (he's 53 after all), Harris still sounds amazing as his parade of hits in HAM makes clear.  You'll thrill to his childhood imitation of Anthony Newley (which is seriously good!), an electrifying rendition of "Ain't Gonna Let Nobody Turn Me 'Round," and his finale, "Broken Wing," which Harris & Schroeder wrote together.  True, the end of HAM turns shamelessly manipulative, but I loved every minute of it and cried like a little girl as Harris sang a subdued version of his signature song, "Somewhere Over the Rainbow," to his son, Cooper.  HAM is a love-fest that makes Harris a 'ham' in the best sense of the word.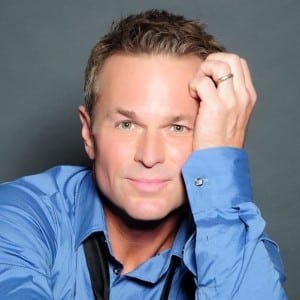 www.samharris.com
www.arsnovanyc.com
(Note: The wonderfully hilarious graphic design for HAM is by David Edward Byrd, the brilliant artist behind some of the greatest theatre posters of all time, including the original Godspell and Follies posters – just to name a few!)