Michele Pawk & Ginna LeVine in "Picnic" (photo: Carol Rosegg)
Transport Group Theatre Company
Gym at Judson
February 23, 2017 thru April 23, 2017
Opened March 26, 2017
Written by William Inge
Directed by Jack Cummings III
Original Music by Michael John LaChiusa
Director Jack Cummings III's excellent revival of William Inge's Pulitzer-winning drama about 1950's angst in the waning days of summer in a small Kansas town, is a showcase for a talented cast – several of whom we know primarily for their work in musical theatre but are equally at home in comedy and drama.  Staged by The Transport Group at the Gym at Judson with a spartan set (Dane Laffrey) and period-evoking costumes (Asta Bennnie Hostetter), the great Michele Pawk plays Flo Owens, mother of two daughters: Madge, "the pretty one" who's unsure what lies ahead for her, and Millie, a bookworm determined to be a writer.  A struggling, single-mother, Flo takes in boarders in her house so the tart-tongued teacher Rosemary Sydney, played to perfection by a terrific Emily Skinner, is on-hand to dispense advice and wonder aloud why her boyfriend Howard Bevans, a befuddled John Cariani, hasn't married her yet.  The adjoining porch next door finds Helen Potts, a warm-hearted Heather MacRae, and her elderly, infirm mother who proves high-maintenance for her daughter.  It's hot, tempers flair and the town is preparing for its Labor Day picnic.  Into this volatile mix arrives Hal Carter, a smoldering David T. Patterson, a handsome drifter who captures the attention of every woman in town – young and old.  Hal's in town to look up his college roommate, Alan Seymour, a worshipful Rowan Vickers, who happens to be dating Madge Owens with plans to marry her.  Hal asks Alan to help him find a job but when he meets Madge the sparks fly and the fragile balance of everyone's existence is upended by passion, despair and longing.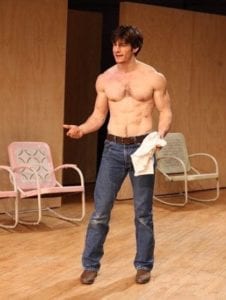 David T. Patterson as Hal Carter
One of the biggest problems in casting a production of Picnic is finding a young man to play Hal who audiences will believe could wreck havoc with the women of the town, but Cummings has no such problem with David T. Patterson.  His well-toned physique and rippling abdominal muscles (particularly his external obliques) elicit gasps from the audience (both women and men!), and he's a good actor, too.  If anything Patterson's body is a distraction and one could make the argument no men in the 1950's had the kind of sculpted musculature Patterson has.  But that's the equivalent of saying a cake has too much frosting or a piece of fruit is too sweet.  Ultimately, nobody cares.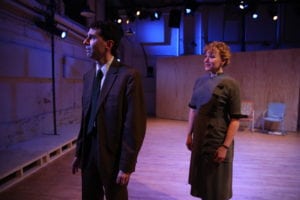 John Carriani and Emily Skinner as Howard and Rosemary
Michele Pawk is wonderful as a conflicted mother who doesn't want to see her daughter make the same mistakes she made but is helpless to stop her.  Stepping into the coveted role of Rosemary – and the shadow of both Eileen Heckart and Rosalind Russell – Emily Skinner is simply magnificent portraying a woman at the end of her romantic rope who's desperate to marry.  She's paired beautifully with John Cariani and their scenes together are among the production's finest.  Ginna LeVine makes a strong impression as Madge which turns out to be perhaps the most complicated and difficult role in the show.  It's tricky playing a beautiful girl who's aware of her looks but deeply unsure of who she is and what she wants.  Supported by an original musical score by the award-winning Michael John LaChiusa (with whom Pawk worked on his original Hello, Again back in 1993-94), this evocative revival of Picnic -now playing in repertory with a strong revival of Come Back, Little Sheba – is a welcome addition to the off-Broadway season.