Pangea
October 30, November 30, December 15 & 27, 2017
Music Direction & Accompaniment by Tex Arnold
No one likes being late to a party, but that's how I felt recently watching the supremely entertaining Jeff Macauley holding court at Pangea in the smartest show in town, Hollywood Party – Movie Songs: 1928-1936.  As he unfurled one delicious, forgotten gem after another I wondered how Macauley's insouciant blend of wit, charm and sophistication could have eluded me for so long.  After all, he'd won a Bistro Award in 1998 for MWAH! The Dinah Shore Show (which he encored in 2016 to critical raves) and has been MAC nominated the last two years for Best Male Vocalist.  Where had I been?  Why had no one told me?  Ah well, better late than never!  And now that I'm at the party, wild horses couldn't drag me away.
It only takes glancing at the titles of Macauley's shows to see why he's the toast of the town and a tastemaker in style:  It Was Me: The Lyrics of Norman Gimbel, Mr. Lucky: The Songs of Henry Mancini and Le Grand Tour: The Music of Michel Legrand.  A performer with panache and savvy, Macauley's Hollywood Party is actually a revival of a show he created more than 20 years ago.  But it's a testament to Macauley's presentation and his material's timelessness that Hollywood Party remains a breath of fresh air and a thrill to experience.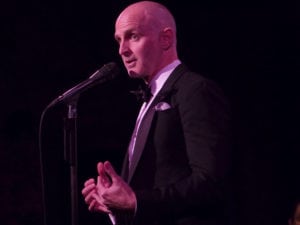 Photo courtesy of James Gavin
Boasting intuitive arrangements and the sensitive playing of the superb Tex Arnold, in Hollywood Party Macauley steps back in time to the Golden Age of film music with a collection of rarities, obscure oddities and – most delightfully – completely unknown songs.  When was the last time you watched a cabaret show and had never heard the vast majority of songs being performed?  And how exciting is that?  As our emcee and bon vivant narrator, Macauley relishes in turning the pages of time, in this case from 1928 to 1936.  Boasting writers as disparate as Rodgers & Hart, Dorothy Parker and Yip Harburg, you'll also experience Herman Hupfeld, Clifford Grey & Victor Schertzinger and George Marion & Richard Whiting.  The lyrics Macauley has chosen are unerringly smart, funny and frivolous – all qualities Macauley himself embodies as he takes us into his confidence.
Cutting a cool figure in his tuxedo, Macauley's sex appeal is as magnetic as it is dangerous.  His light, lyric baritone often roams into tenor territory but he never pushes, caressing the notes with an even fineness that's a welcome relief from the glut of belters who equate volume with emotion.  Younger singers would do well to emulate Macauley's sumptuous phrasing and consummate breath-control.  It's refreshing to watch a show where the performer understands the lyric is paramount, and to take breaths where dictated by the text.  No breaking up phrases or taking a gigantic breath before the last word in a sentence for Macauley.  It's this attention to presentation, along with his eclectic taste in repertoire, that Macauley reminds me of the terrific Chicago-based performer Justin Hayford.  They both have a gentle approach to their material but there's always a sly wink in the execution.  And that wink is everything.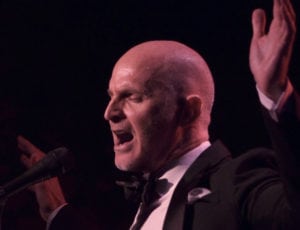 Photo courtesy of James Gavin
Whether he's advising us to "Never Swat A Fly" (from Just Imagine, 1930 – Fox: by B.G. De Sylva, Lew Brown and Ray Henderson) or to "Bend Down Sister" (from Palmy Days, 1931 – United Artists: by Ballard MacDonald/Dave Silverstein and Con Conrad), Macauley is genuinely having fun and his rapt audience is along for the ride.  Selfishly, I can't wait to see what he does next!
Jeff Macauley next appears at The Duplex Cabaret Theatre on Sunday, January 14th at 9:30 pm in
Little Crumbs of Happiness with James Judd, Terri Mintz & Ann Talman
http://www.purplepasss.com
(Note: A word about the wonderful cabaret room at Pangea at 178 Second Avenue in New York City.  I'd been to Pangea many times, but it had been many years since my last visit and I'd never experienced the charming and intimate performing space now lovingly ensconced at the back of the restaurant.  It's the perfect size space for cabaret shows with excellent sight-lines.  And the food was delicious!)