The Laurie Beechman Theatre in the West Bank Cafe
June 13, 2018
Music Direction & Accompaniment by Alex Rybeck
Bass – Jered Egan
Drums – Dan Gross
You only have to glance at cabaret veteran Jeff Harnar to know somewhere in a dingy attic there's a full-length portrait of him in oil aging rapidly!  Like Dorian Gray, it's clear he's made a Faustian bargain, for how else can one explain that, 35 years after making his cabaret debut, his boyish looks and angelic countenance remain firmly intact.  Whether it's a pact with the devil or just clean living, there's no denying Harnar looks amazing.  But perhaps even more astonishing is his voice remains as ageless as his profile.  Like Vic Damone and Steve Lawrence before him, Harnar only gets better with each passing year.  Indeed, it's not overstatement to propose Harnar may only now be approaching his zenith as a performer.  Of course, it's impossible to talk about Jeff Harnar without quickly including the name Alex Rybeck, his gifted musical director, accompanist, arranger and friend.  It's that friendship and artistic partnership which is being celebrated in their smashing retrospective, The 35th Anniversary Show, which debuted last month, June 13, at The Laurie Beechman Theatre in the West Bank Cafe.  A veritable kaleidoscope of greatest hits interspersed with hilarious stories and informative exposition, Harnar & Rybeck are an unbeatable pairing for consummate entertainment.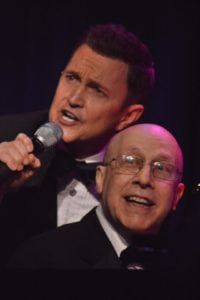 Together these two men could fill entire libraries with their awards and accolades.  They've won everything there is to win in the world of cabaret, but they're not resting on their laurels in this anniversary show.  Giving us a generous sampling of songs from almost a dozen, expertly-crafted 'theme' shows and four major recordings, Harnar & Rybeck run the musical gamut at the Beechman, carefully choosing songs that illuminate their partnership and highlighting what both performers do best.  Harnar's lyric tenor soars on "There Is A Time (Le Temps)" (Aznavour/Davis/Lees), "Make Someone Happy" (Styne/Comden & Green) and "Time After Time" (Styne/Cahn).  With his impeccable phrasing and diction, he can float a line with finesse as he does singing "I Say Hello," Dolores Gray's knockout ballad from Harold Rome's Destry Rides Again.  Or he'll surprise you with a Broadway belt as he does in Irving Berlin's "Blue Skies."  Musically, the highlight (among many) may be "What a Funny Boy He Is" (Rybeck/Stewart), a gorgeous song written by Rybeck himself with a lyric by Michael Stewart which I first encountered on the late, great Nancy La Mott's "What's Good About Goodbye?" disc.  Harnar's wistful, haunting reading and Rybeck's beautiful, understated arrangement set the bar high for future interpreters.
Additionally, Rybeck's arrangements for his trio, including Jered Egan on bass and Dan Gross on drums, are as savvy as they are deceptive.  They do what good arrangements do best – they provide a showcase for Harnar's voice while also musically reinterpreting songs in a way that allows them to feel and sound new.  A prime example of this is "How Little We Know" (Carmichael/Mercer) in which Rybeck's subtle arrangement pays homage to the great Stephen Sondheim in its underpinnings.  For comic relief, Harnar & Rybeck have included two medleys in their set which allow them to sing together, much to the delight of the audience.  The Strange Duet Medley includes: "Strange Duet" (Styne/Comden & Green), "Close Harmony" (Styne/Comden & Green) and "The Wrong Note Rag" (Bernstein/Comden & Green); and The Politics Medley includes: "Politics and Poker" and "Little Tin Box" (both Bock/Harnick), "The Men Who Run the Country" (Arlen/Mercer), "The Country's In the Very Best of Hands" (dePaul/Mercer) and "No Way to Stop It" (Rodgers/Hammerstein II).  The political songs, especially, are frighteningly timely for the world in which we're currently living.
In addition to his terrific singing, Harnar is more relaxed and humorous that I can remember.  Whether dispensing some ribald advice Sylvia Syms gave him, repeating a Kitty Carlisle Hart anecdote, or channeling Patti LuPone by literally taking a woman's cell phone away from her during "Put 'Em In a Box, Tie It With a Ribbon" (Styne/Cahn), Harnar is in his element.  Clearly, milestones breed confidence, as evidenced by Harnar's eleven o'clock performance of "Come Back To Me" (Lane/Lerner), a fiendishly difficult "list song" on which Harnar included the little-sung verse and made the song his own with a totally unique reading of the lyric, placing emphasis in new and unexpected places.  That's what an artist does, and what Harnar & Rybeck continue to do very well, indeed.  Miss them at your peril.
Jeff Harner & Alex Rybeck – The 35th Anniversary Show
Encore Show on Friday, September 21st at 7:00 pm
The Laurie Beechman theatre in the West Bank Cafe
407 West 42nd Street at 9th Avenue
www.beechmantheatre.com or 212-352-3101