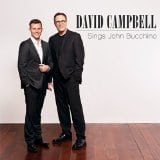 Of all the handsome, talented Australians who invaded New York in the late 1990's and early 2000's (such as Tim Draxl, Kane Alexander, Nick Christo, Shaun & Adam Rennie, Trevor Ashley, Hayden Tee, say when…), it was heartthrob David Campbell who made the largest impression and whose absence is still spoken of regularly by theatre and cabaret devotees alike.  Campbell burst on the scene at age 23 in 1996 when he received rhapsodic reviews in two sold-out engagements at Eighty-Eight's.  A year later he went on to become the youngest performer in its history to play the prestigious Rainbow and Stars nightclub where he became the toast of the town.  Campbell then focused his sights on the stage where he wowed audiences and producers alike with his turn as Valentine Lamar in the City Center Encores! production of Babes in Arms, and the plum role of Gene Gorman in 2econd Stage's production of Stephen Sondheim and Julius & Philip Epstein's Saturday Night.
It seemed he could do it all and was on the verge of a major Broadway career when – in a flash – he was gone!  Campbell returned home to Australia, needing to ground himself with his family and escape the isolation of being alone in a town filled with temptations.  His decision, by all accounts, was the right one.  Reestablished in Australia, Campbell went on to star in musicals (including Shout! The Legend of The Wild One which made him a household name), helm the Adelaide Cabaret Festival, star on television in various morning shows, get married (to Lisa Hewitt in 2008) and start a family (his son Leo was born in 2010).  Through it all, he's kept singing and, more importantly, he's kept recording.  Campbell's newest disc, a labor of love he produced himself, brings him back to his cabaret roots with one of the best songwriters working today.
Entitled simply David Campbell Sings John Bucchino, Campbell's new disc finds him in wonderful voice.  His soaring tenor has mellowed and matured into an emotional, lyric baritone (albeit still with those top notes) and he is clearly enjoying putting his stamp on Bucchino's exquisitely crafted melodies and lyrics.  Additionally, after several recordings with lush, orchestrated accompaniment (notably, his recent On Broadway recording), it's refreshing to hear Campbell 'unplugged' – as it were – with only Bucchino accompanying him at the piano.  A judicious and spare piano puts the spotlight squarely on Campbell's voice and lyrical performance, and it's a pleasure to report that both prove a winning combination with Bucchino's songs.  His plaintive (almost mournful) readings of "Sweet Dreams," "Unexpressed" and the wrenching "If I Ever Say I'm Over You" display a considerable leap in Campbell's interpretive powers.  The jaunty, hope-filled "Something Spontaneous" and "Puddle of Love" allow Campbell's effortless charm to ooze thru with smile-inducing results.  And even a Bucchino classic like "It Feels Like Home," forever associated with the late, great Nancy LaMott, is a conduit for Campbell to seduce, hypnotize and, ultimately, conquer any doubts that may linger about his power to win hearts and minds.  He is a veritable Don Juan with an elegant lyric which Bucchino provides here with abundance as in the promise of "What You Need."
If there is a complaint about David Campbell Sings John Bucchino, it would be that there's simply not enough of it!  At only eleven tracks, it's a shame Campbell and Bucchino (who produced the disc together) couldn't have recorded at least five or six more songs.  Additionally, Campbell has recorded two of those eleven before (on Taking the Wheel (Phillips 1997) he sang both "Grateful" and "Taking the Wheel"); even if, admittedly, both of those songs are terrific and Campbell practically owns "Taking the Wheel" at this point.  It would have been nice if Campbell could have essayed something from Bucchino's glorious musical, A Catered Affair (2008) or a few things from his It's Only Life – A New Musical Revue (2006), but it's easy to be greedy when the two artists involved are Campbell and Bucchino.  And besides, this way we have David Campbell Sings John Bucchino – Volume 2 to dream about.
David Campbell's Music/Recordings