Heather MacRae & Joseph Kolinsky in "Come Back, Little Sheba" (photo: Carol Rosegg)
Transport Group Theatre Company
Gym at Judson
February 23, 2017 thru April 23, 2017
Opened March 26, 2017
Written by William Inge
Directed by Jack Cummings III
Original Music by Michael John LaChiusa
Running in repertory with their excellent revival of Picnic is The Transport Group's new production of William Inge's Come Back, Little Sheba starring Heather MacRae and Joseph Kolinski in the lead roles.  Though it's not as solid as Picnic, Jack Cummings III's staging of Sheba is worth seeing but there are certain choices that don't make sense and performances that are inconsistent with the characters as Inge wrote them.
As Inge's first play in 1950, Sheba revolves around the marriage of Doc and Lola Delaney.  A recovering alcohol who struggles mightily with his sobriety, Doc now works as a chiropractor after being forced to abandon a promising medical career when Lola became pregnant, ultimately losing the baby.  Now overweight and slovenly, Lola spends her days in mild flirtations with the mailman and the milkman.  She lives vicariously thru Marie (Hannah Elless), a young woman who rents a room in their house and has designs on both the muscular Turk (David T. Patterson) and the successful Bruce (Rowan Vickers).  Lola encourages Marie but Doc sees in Marie the life he didn't have.  When he discovers she's not as innocent as he thinks it sends him on a alcoholic bender and unleashes his pent-up rage.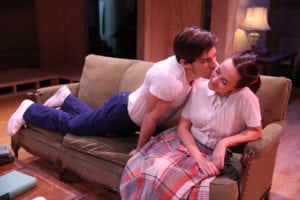 David T. Patterson and Hannah Elless as Turk and Marie
Cummings opens up his staging to a large, in-the-round performing space with clearly delineated "rooms" for the kitchen, the dining room and living room, all of which flow one into the next.  Much of the time MacRae, an expressive actress who wears her heart on her sleeve, seems ideal for Lola, and a late second act phone call to her mother is shattering.  But occasionally MacRae's characterization lacks depth and she seems adrift emotionally.  In Lola's many scenes with the mailman and the milkman (both portrayed by John Cariani) she's supposed to be actively flirting with them but, for some reason, MacRae merely 'chats' with them.  Perhaps nothing is more difficult that playing drunk on-stage and when Joseph Kolinski's Doc falls off the wagon his characterization is overwrought and out-of-control.  Several times Doc's "anger" turned almost psychopathic in Kolinski's performance.  It's a choice, but I think it's the wrong choice as Inge has written him.  Still, despite these problems, this Sheba has palpable moments of power and heartbreak, possessing luxury casting in its small supporting roles, including appearances by such veterans as Jennifer Piech, Jay Russell and David Greenspan.
The last New York production of Come Back, Little Sheba was MTC's production directed by Michael Pressman and starring S. Epatha Merkerson as Lola, Kevin Anderson as Doc and Zoe Kazan as Marie at the Biltmore  in 2008.  Even if The Transport Group's revival isn't perfect, it's an opportunity to see an important work from a major playwright of the mid-20th century whose subject matter still resonates powerfully today.
http://www.transportgroup.org/come-back-little-sheba-inge-rep